After transforming my own physique, I have been able to share techniques that I used and developed during my own personal transformation to help many others...
​Sam
Charlie
Ian
Kieran
Craig G
Daryl
Jon
Holly
Craig S
Elton
After losing a lot of fat very fast himself, Elton came to me to improve his muscle shape and symmetry, which we managed to achieve in just 5 weeks! We even managed to continue to lose a more of that excess fat you can see all over, particularly around his stomach and lower abs while still increasing muscle.
Powered by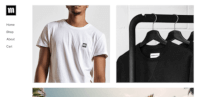 Create your own unique website with customizable templates.