Feel at ease knowing that I have experienced what you are going through. I have been both overweight and underweight. I truly care about the success of my clients because I can empathise with how you feel. Try your no obligation, free consultation with me today...
---
This Is Me... About Your Trainer

In April 2011 I experienced one of those events that change everything. I knew as it was happening my life was about to drastically change, but I never knew it would start with my body – and in a positive way.

Training alone, the combination of diet and exercise meant within just three weeks I lost nearly 30 lbs, and by week seven I had lost over 40 lbs! Until eventually, after twenty weeks, I had lost a massive 70 lbs (5 stone)! I still can't believe it. I would go on to lose a further stone, totalling to a 6 stone of fat loss.

From here I took my body, which was now a skinny 10-stone (slightly less!) and changed my routine once again to pack on a huge 4 stone of muscle.

With me as your personal trainer you can be confident knowing that I have been in your position whether you are overweight and looking to lose a few pounds or underweight and looking to put on some muscle - I have been there and experienced what you are going through. I will tap into your body and create a new lifestyle that is completely personal to you! No template plans with me; everything I build is completely for your unique body, work & family schedule and your goals so that we achieve the best results!

Change Your Life Today
Powered by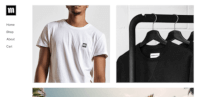 Create your own unique website with customizable templates.